Flash
Body Monsters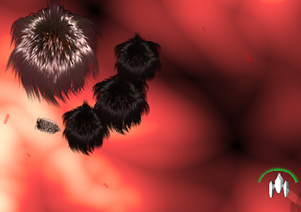 Body Monsters is a shoot-em-up set inside your intestines. 
Enjoy 7 minutes worth of shooty-carnage and intestiney-things. One exciting level of internal organs and space-ships and stuff that fires stuff at you...
No dominant
strategy
, you start with all your weapons.
You can
ram 
things, and you can recharge you
shield 
on your platform.
A lot of shmups have same strategy, lurk at the bottom and avoid stuff, so I made weapons short range, each based on different types of first-person-shooter weapons, all to encourage movement and play variety.
The first game I've done where I really put the effort into the
graphics
.
I wanted to avoid geometric patterns and keep everything looking
organic
.
There's one
level.
If I get nice feedback, I'll make more.
State: Polished
Format: Flash
Type: Action
Levels: 1